Digital Marketing Books You Need To Read
Turn The Page
If you're working in the digital marketing world, you know how mentally challenging it is. Sure, you can do tons of research online, network and all that good stuff, but you should look elsewhere too. Expand your horizons beyond the computer screen and feel the vibes of flipping through an actual book. There's just something about the tangible nature of books that automatically makes you feel like you're going to learn something important. There's a different energy that surrounds reading a book that makes the experience very different from reading something on your laptop or phone. Below are our top 5 choices for digital marketing books that you need to get your hands and eyes on.
Digital Marketing Books 2018
Here are our top choices (in no particular order) for digital marketing books that will propel your game to the next level.
1.) HIT MAKERS – by: Derek Thompson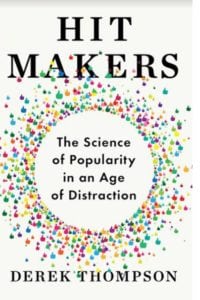 About the author: Derek Thompson is a senior editor at The Atlantic magazine, where he writes about economics and the media. He is a regular contributor to NPR's "Here and Now" and appears frequently on television, including CBS and MSNBC. He lives in New York City. (Source: Amazon)
I loved reading this book – the whole time I was reading it, I kept telling everyone around me how great it was. There are a lot of established principles and studies in this book, but he describes them with such storytelling that it's fun to read and hard to put down!
Quote from the book: "Most consumers are simultaneously neophilic, curious to discover new things, and deeply neophobic, afraid of anything that is too new. The best hit makers are gifted at creating moments of meaning by marrying new and old, anxiety and understanding. They are architects of familiar surprises." (Source: Goodreads)
About the author
: Joe Pulizzi is founder and chief content officer for Junta42, the leading online resource for content marketing. (Source:
Amazon
)
By: Ariel April 14, 2018
Very interesting, topical and well written. Addresses many of the changes that are happening in marketing today and provides real insight into how to capitalize on these changes in ways that make the most sense for consumers and businesses. Win win. Recommended read to marketers.
Quote from the book: "I've come to understand that the potential for content marketing to transform the business, goes far beyond acting and thinking like a media company. It's about realizing that are assumptions about what marketing can achieve might be wrong."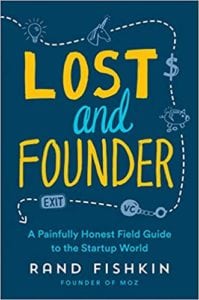 About the author:
 Rand Fishkin, aka the Wizard of Moz, is co-founder and former CEO of Moz, host of Whiteboard Friday, co-author of a pair of books on SEO, and co-founder of Inbound.org. This is his first solo book. (Source:
Amazon
)
Score: 5.0 out of 5 stars
By: Jeph Maystruck
June 12, 2018
I've followed MOZ for years now and this book was fascinating. How they started, how they raised capital and how they had to make the hardest decision in their lives when laying off a bunch of people. He talks about the romance people have with venture capital and the real world side of it. The most interesting part was Rand's honesty in his battle with depression. He doesn't hold back, he talks about it in a very real way. You come out with a lot of respect for Rand. I would definitely recommend reading, specially if you're working in the startup world. (Source:
Amazon
)
Quote from the book: "Everyone knows how a startup story is supposed to go: A young, brilliant entrepreneur has an cool idea, drops out of college, defies the doubters, overcomes all odds, makes billions, and becomes the envy of the technology world. This is not that story."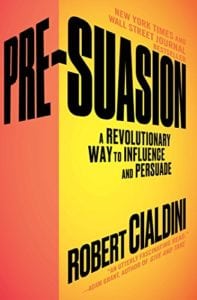 About the author: Robert Cialdini is recognized worldwide for his inspired field research on the psychology of influence. He is a New York Times bestselling author. His books, including Influence, have sold more than three million copies in thirty-three languages. Dr. Cialdini is Regents' Professor Emeritus of Psychology and Marketing at Arizona State University and the president and CEO of Influence at Work, an international company that provides keynotes and influence training on how to use the lessons in Dr. Cialdini's books ethically and effectively.
After reading Influence by the same author I had to pick this up too. I'm glad I did as it is a perfect companion and addition that makes understanding the principles of influence even more clear. A lot of the content focuses on the same biases that makes content viral and shareable, though in a different context.
Quote from the book: "So by my lights, the number one rule for salespeople is to show customers that you genuinely like them. There's a wise adage that fits this logic well: people don't care how much you know until they know how much you care."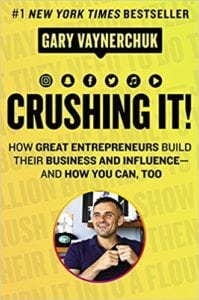 About the author: Gary Vaynerchuk is chairman and CEO of VaynerX, a $150-million-plus media holding agency that includes VaynerMedia and PureWow. He is one of the world's leading marketing experts and a four-time New York Times bestselling author. After growing his family wine business from a $4 million to a $60 million busines, he developed and now runs VaynerMedia, one of the world's hottest digital agencies. Gary is also a prolific angel investor and venture capitalist, investing in companies including Snapchat, Facebook, Twitter, Uber, and Venmo, and cofounding the Vayner/RSE fund, among many other enterprises. He lives in New York City.
Score: 5.0 out of 5 stars
By: J. Diromon January 31, 2018
Gary does an excellent job as expected as laying out every single social media platform out there. He looks at major platforms such as Instagram, Facebook, and Instagram and lays out both theoretical and practical advice for people to establish their personal brands. He also goes into some lesser know platforms, to show the readers how they can be used to their advantage. For those of you who follow Gary Vaynerchuk, this book is basically reiterating a lot of things that he has said over and over again, in a more laid out fashion. Book does a good job of pulling real-world examples such a Jared Poulin who have gained success via social media platforms. If you are not "Crushing It" on platforms like Twitter, Instagram, Facebook, Snapchat, and others, this book is really a must read.
Quote from the book: "What worked for me won't work for you, however, and vice versa. That's why self-awareness is so vital—you have to be true to yourself at all times."
Get Reading!
Now's the time to start reading these digital marketing books and gain knowledge that you just can't find on the internet. While you're on Amazon, get yourself a little something extra. You deserve it!