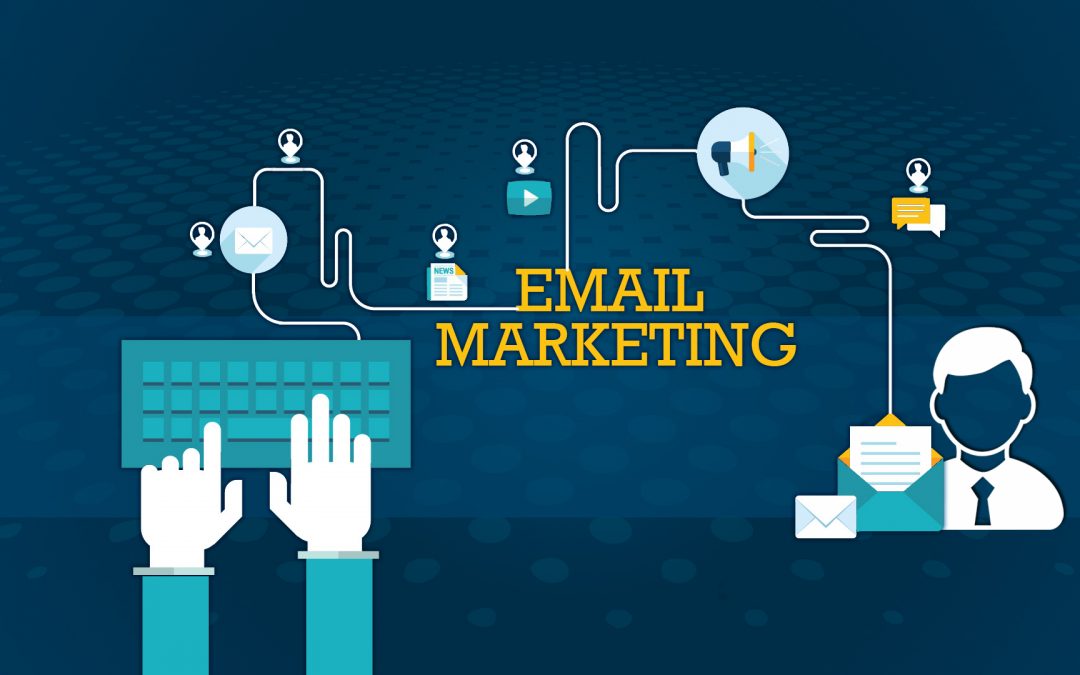 Email Marketing For Beginners
Good ol' email. Instant messengers have come and gone but email has outlasted them all. These days, people have multiple email addresses – one for work, one for school, one for personal use and the list goes on. This makes it easier to obtain someone's email address because people are less attached to that one email they used to have. We are in an environment where an abundance of email marketers are battling to attract, engage and ultimately convert leads. It's definitely not easy. An email marketing campaign that results in 25% open rate would be extremely impressive (in general – but it does depend on the industry).
If you're trying to create an email marketing campaign, keep reading below for 7 steps that will guide you in the right direction.
Step 1 – Set Your Goals
Easy there turbo! If you want your campaign to be successful, you need to take a breather and really think about what you're saying. Don't just rush forward with the first idea that comes to mind.
If your website earns money on ad impressions, you're probably trying to drive traffic. Your emails will likely contain links to popular or recent content on your site.
If you sell products in an e-commerce store, you might be trying to drive sales. In this case, your emails might link to best sellers, promote new merchandise, welcome new members, or reward loyal ones.
If you're looking to bring attention to a cause, you might send out a newsletter with human interest stories, current events, details on community activities, or requests for donations.
Step 2 – E-Mail Marketing Platform
If your CRM doesn't provide email marketing features that fit your needs you'll want to create a self-sustaining marketing campaign with email triggers and autoresponders. In that case, you'll need a dedicated email marketing provider. Here are a few well-known providers you should consider:
Step 3 – Build Your Email List
Your list may have humble roots with only a few subscribers, but prospects are prospects. It's tempting to buy an email and bulk-send cold emails (hey, it works for some people), but you probably already have a fair number of contacts floating around in your records. If you choose to build an email list from scratch, there are ways to do that, too.
Consolidate Your Contacts
The basic identifiers for someone's digital existence is their name and their email address. If you're trawling your database and encounter very old email addresses, fair warning — emails tend to degrade. People change email addresses when they change jobs, change webmail providers, adopt a different handle, or simply change their throwaway, but don't worry about this now. When your campaign is underway, you'll be able to track unresponsive email addresses and cull them from your list.
Where should you look for gathering contacts? Here are a few ideas:
Existing email list — Of course, if this isn't your first email marketing rodeo, then draw from your previous efforts at list-building.
Email account — Naturally, the first place you might look would be your present and former email accounts. Webmail accounts in particular make it easy for you to export your contacts, usually in CSV format.
CRM — If you use a CRM (and take steps to maintain clean data) then you'll have a wealth of contact information in here. If it's a fairly well-known CRM, there's a good chance your email marketing service provider integrates with it already. If not, you can export your contacts in a CSV file.
Contact management system — Contact management apps can sync with your email, phone, and social media, so you might be able to get most of your contacts in one fell swoop. (Your CRM may have already replaced this, though.)
Ecommerce platform — Check your online store for current and past customers. Different platforms have different methods for exporting customers: depending on the solution, you may be able to export their purchase orders, their email addresses, and other relevant information. Check whether your email marketing solution integrates with your e-commerce platform.
You probably have more contacts than you think. Of course, the more prospects the better. Instead of buying an email list — which might be full of expired addresses anyway — check the next section for tips on growing your email list.
Segment Your Email List
Segmenting your email list lets you send highly-targeted emails to people based on their interests or demographic criteria. If it's relevant to them, they're more likely to open it; if they open it, there's a chance they could convert.
Depending on your product or service, there are several data points you might consider when segmenting your audience. These include:
Geography — The physical location of your recipients by country, region, state, or city. This can help you tailor content specific to certain places or accommodate time zone differences.
Demographics — Demographic criteria includes age, gender, language, background, job title, or any other data points specific to an individual.
Firmographics — Firmographic criteria refers to characteristics regarding a company, such as headquarters, industry, revenue, and number of employees. This is particularly useful for B2B account-based marketing or sales.
Past purchases — This is useful for ecommerce retailers in particular. This can inform an email's dynamic content or the nature of promotions personalized to recipients' interests.
Amount spent — This is useful for encouraging customers to hit a threshold at which they gain benefits, or rewarding loyal customers with a discount.
Position in sales funnel — The abandoned shopping cart is the most well-known example. However, you can send emails customized to any stage of the buyer's journey to push them farther down the funnel.
Time since last purchase — Win back past customers before they go cold. Offer them incentives to return, announce new merchandise, or preview upcoming sales.
Expressed interests — Send relevant content to the parties most interested based on interests they confirmed when subscribing to your emailing list.
Email engagement — Customers who opt to receive emails no more than, say, twice a month can have abbreviated bi-weekly newsletters sent to their inboxes with the top topics of that period.
Step 4 – Create Your Campaign & Build Your Email
Header
1. Sender Name — People respond better when emails come from a personalized account. Instead of using your company name, which is impersonal, use a name linking back to the actual sender.

2. Subject Line — Your subject line needs a hook. It should be short, personal, and action-oriented. Of course, the specific nature will depend on your goals and the nature of the email: are you sending a promotional offer, getting attention to a cause…? It'll determine what you write. Think something like:

"[Name], Claim Your One-Time Promo Code for 15% Off!"
"Increase [Prospect Company]'s Sales Effectiveness in 3 Steps"
"[Name], I'm Reaching Out Through [Referral]."

Notice how they're personalized. This is deliberate: people respond positively to seeing their name.

3. Preheader — The preheader is the blurb of text that appears under the subject line in the inbox preview. You can view it as an extension of the subject line, or include a call-to-action; however, be mindful that different mobile devices and email clients allow different text limits for preheaders.
Fill the Body
Talk to your subscribers' interests. Don't talk at your subscribers, talk with them — speak their language, address their pain points, show them authenticity. Your email subscribers get dozens of emails every day trying to sell them something. You're trying to elicit action, and a purchase might be part of it, but don't fall so easily into that crowd.
Don't go too text-heavy. People spend a very short time reading emails. You aren't writing a novel. Keep it short, clear, simple, and direct.
Include visuals. A picture is worth a thousand words. Put a banner image at the top, and smaller images sprinkled throughout depending on your campaign's goals. Promotion? Include product pics. Human interest piece? Include a headshot or pictures from out in the field. High-definition is preferred.
Format emails for readability. This depends on your readership. If you're writing about a specialized, arcane topic, then your readers are probably more willing to read a dense paragraph. But most people aren't. Break up paragraphs into lines of text; if the email seems too long, trim down the text.
Keep your design consistent. Don't switch templates mid-campaign. Some creative variations are okay, but your recipients should know what to expect.
Include several calls-to-action. Don't only put your CTA at the bottom of your email. Ensure your readers have several options to click through; phrase them differently so you don't sound pushy or robotic.
Complete the Footer
1. Contact Information — You'll need to include your company's physical address to comply with federal anti-spamming laws.

2. Social Media Links — Add buttons that link to your company's accounts on Twitter, Facebook, Pinterest, Instagram, and any other social network you use.

3. Unsubscribe Links — This is also required to comply with anti-spam laws, but don't look at unsubscribes so negatively! It's also valuable feedback that helps you optimize content to speak more to your target audience.
Step 5 – Autoresponders
Alright, so you created your first email. Nice! But of course, you already know there's a lot more to an email campaign than the first email. It's time to automate that baby.
What is an autoresponder?
An autoresponder is a program that automates the sending of emails. The emails can be triggered by specific actions or timed for regular release. Autoresponders are used in email marketing to nurture leads, build trust, provide confirmation that data was received, and otherwise convey useful information about products, services, or promotions.
You'll likely receive emails via autoresponder when you sign up for an email subscription, purchase items online, ask for customer service, or download an ebook. In fact, any digital company with a robust digital presence likely uses an autoresponder simply because they're an excellent, cost-effective way to send relevant content to different customers are various stages in the customer journey without taking the time, energy, or brainpower to personally write each one.
What are autoresponders used for?
Welcome — This refers to emails welcoming a new email subscriber, a new account holder, a new customer, etc. They're usually brief, positive, and helpful. Welcome emails typically have fairly high open rates.
Thanks — These emails thank subscribers for certain actions, such as downloading a gated asset, completing a survey, or creating a referral. These are distinct from transactional emails (see below), but they are often correlated.
Transactional — Transactional emails include bills, receipts, and order confirmations. They'll usually remind customers of certain order details, such as an invoice number or an expected delivery date.
Activation — If a new customer needs to click a link to activate their account, this email will contain that link. It might also include instructions on how to use their new product or service.
Post-Purchase — These emails follow up with customers after a purchase, usually for customer satisfaction surveys or a product or vendor review.
Upsell / Cross-Promotional — These emails recommend complementary or often-paired products with the ones the customer just purchased.
Date Triggered — These emails are triggered by notable dates like renewals, reorders, birthdays, or anniversary of subscription.
Triggered by Website Behavior — These emails are prompted by visits to particular pages, the length or number of visits, links clicked, etc. The email content can be tailored to the nature of their browsing activity.
Event Countdown — This reminds subscribers that a noteworthy event is coming. It informs them how many days or hours remain until launch as well as event-related details.
Win-Back / Reengagement — These emails seek to re-establish cold leads. They'll offer promotions to spur browsing or shopping behavior, request a customer survey, or provide links to content related to the customers' known interests.
Shopping Cart Abandonment — These emails are one of the more famous types of autoresponders, and they remind leads they have unfinished business on your site. It might even offer a one-time discount to close the deal soon.
Other — There is a huge variety of occasions to send automated emails. The above list covers the better known portion, but there are always company-specific reasons to touch base with subscribers.
Step 6 – Enable Tracking
Here are a few metrics you'll definitely want to track as the backbone of your email campaign optimization:
1. Unique Open Rate — This tracks the number of distinct recipients who've opened your email. This is a separate metric than Total Opens, which includes multiple opens by the same recipient.

2. Click-through Rate — Your click-through rate measures the number of recipients who click one or more links in the email, which bring them to a landing page on your website. Generally, the more clicks, the better. In practice, click-through rates can vary greatly per industry and by the nature of the campaign.

3. Click-to-Open Rate — This metric divides the number of unique clicks by the number of unique opens to tell you the percentage of recipients who both opened the email and actually clicked a link. This gives you a sense of how well your content is actually performing with the people who see it.

4. Bounce Rate — The bounce rate measures the rate at which your emails are rejected by email servers. There are two types of bounces — hard and soft. A hard bounce usually occurs as the result of non-existent or invalid email addresses. A soft bounce can indicate recipient's inbox is over quota or the email message is too large. High bounce rates are a sign you should trim your email list of unproductive addresses or use confirmation emails to ensure subscribers actually want to subscribe.

5. Unsubscribe Rate — This is the rate at which recipients are unsubscribing from your email campaign. Unsubscribe rates vary by industry, but generally anything over 1% means you should look to provide more value in your content, improve the quality of your contact list, optimize the frequency of your emails, and better segment your list.

6. Spam Complaint Rate — A high spam complaint rate is a sign your recipients don't see value in your emails. This should concern you in particular because an excessive complaint rate may result in your account being disabled by email marketing service providers. Different providers specify different acceptable spam complaint rates, but it's generally very low — perhaps no more than .1%.
You should be able to track these metrics, and more, using your email marketing service provider and Google Analytics.
Step 7 – Send!
Congratulations! You've created an email marketing campaign. Now it's time to send your emails. You might hit a homerun on your first campaign, but don't be discouraged if it's a dud — we learn more from our failures than our successes. Segment your lists, study campaign performance, make alterations, test your emails against one another, and every day you'll get a little closer to your goals.
Email marketing is a great way to increase engagement and convert leads but like all successful strategies, it takes a lot of work. If you're looking to outsource your email marketing campaigns, look no further than Carte Blanche Media! We have the experience and expertise you need to get it done right.