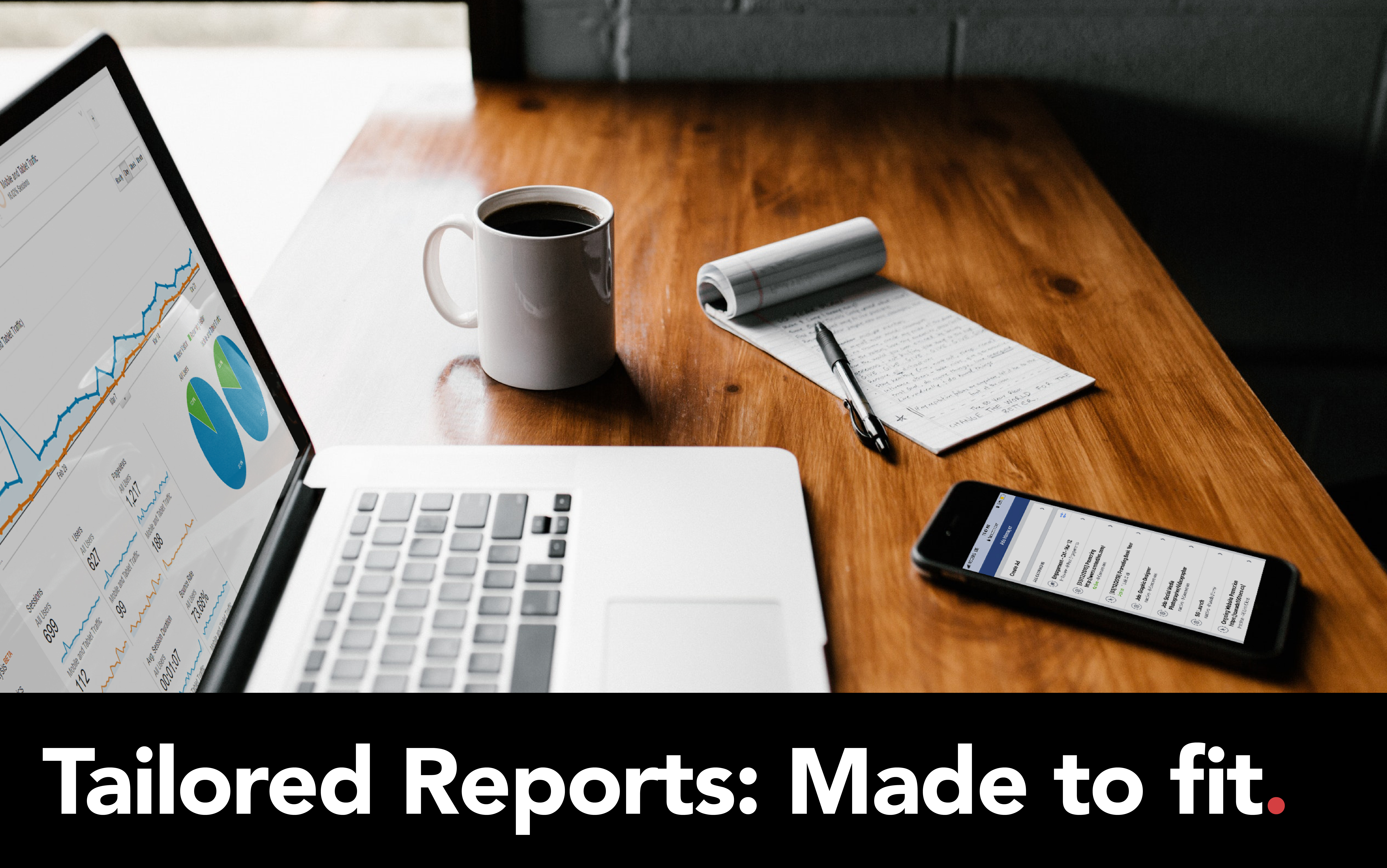 Creating Digital Reports That Matter
Go Beyond Metrics & Statistics
With the wealth of information available to us these days, it's a given that our clients want to see the proof in their pudding. Telling them that things are going well just doesn't cut it – and why should it? There are marketing agencies that have done people wrong and we don't blame our clients for wanting to "see behind the curtain." Whether things are looking up or down, our clients get concrete, transparent reports because they simply deserve to know the facts. Stick with us as we go through some helpful tips and give you some great links to tools you can use when creating digital reports that matter.
If you create a report and no one is there to read it, does it matter?
In short, yes, it does matter. Here's the long-winded answer why. Having reports handy in the event of the "what have you done for me lately?" phone call can be the fail-safe net you're looking for. We create reports for all our clients BUT we consider time spent and how in-depth the report should be in each client's case. For example, if you have an SEO savvy client who loves seeing their conversion rates, keyword rankings, and bounce rates, you should definitely take stock and deliver those metrics. Some clients may be more of "just show me the bottom line" type so, for them, we deliver the meat and potatoes first and only go the extra mile if/when asked. The truth is, some of those clients may never ask and your time, as they say, is money. In the end, you need to decide which clients absolutely need deep, data-driven metrics and which simply want to see a positive ROI. Here's some cool reporting software you can use when creating digital reports.
Don't be perfect, be genuine.
Try not to overwhelm your clients with metrics only you can understand. Filter the report in a way that speaks to the client and delivers the pertinent information they want. Additionally, don't be afraid to face any weaknesses. There will always be some room for improvement in your marketing strategy. Be honest about last month's shortcomings, but have a plan in place to address and overcome them. Showing your client that their numbers are simply going off the charts across the board is both false information, and leaves you with very little to wow them with on your next reporting period.
Consistency wins the race.
Regardless of your client's reporting schedule, make sure you deliver on time. This is one of the simplest things to accomplish and incredibly important for your client. Though all our reports are delivered with ups and downs, we highlight the successes. Make sure your client has an understanding of the things that went right and the work it took to get there. Don't gloat and straighten your tie with an arrogant smirk though! Be confident in explaining the stellar as well as the not so stellar.
Hey, good lookin'!
Invest in creating digital reports with a clean, well-designed layout. Set a standard; not only for your clients but for your digital agency too. If you have an in-house graphic designer, great. If not, reach out to a freelancer and get it done. Please, and we beg of you – don't take this opportunity to get on YouTube and learn Adobe InDesign or Photoshop. It'll take you countless hours to get it right if you even get there. Designing a digital report shouldn't take more than an hour or two for a professional graphic designer. Trust us, it's well worth the money and your clients will appreciate it too. Check out this great free reporting template to help you out.
Get some feedback.
Once we've handed in our digital marketing report, we like to arrange a post-report meeting with our client. This serves as an opportunity to go over the report together, delivering explanations for certain metrics. This can also be a great opportunity to discuss the deployment of upcoming marketing strategies. Don't do all the talking though. Ask questions like, "would you like to see anything in the report that wasn't there?" Make sure you understand their perspective and what you should or shouldn't include in your next digital marketing report.
Spice it up.
We make an effort to give our clients different types of digital marketing reports. For example, if one of your client's goals for a given period is to get more traffic, show them related metrics. You could even schedule different reports in advance. For example, traffic-oriented, conversion-oriented, PPC oriented,  SEO oriented and so on. We like to leave the last 2 months of the reporting cycle for "a year in review" type analysis. Regardless of how you handle your digital reports, make sure they don't get stale. Here's a great yearly overview template article for reference.
Creating Digital Reports | At A Glance
Here's a quick-view summary of everything you need to consider when creating digital reports:
Reporting is important. Create relevant reports for all your clients, whether they as for them or not.
Be real. Stay true to the results and have a plan to address the shortcomings.
Be punctual. If you promise to deliver on the 1st of every month, deliver on that day without fail.
Get a good graphic artist to design a clean, appealing layout for your report. Your client will appreciate it.
Schedule a post-report meeting with your client and ask questions. Make sure they're getting what they need.
Different scopes for different folks. Tailor your reports to different metrics and deliver the big picture at the end of the year.
As always, if you need help with your digital marketing reports or need a hand in your digital marketing efforts overall, Carte Blanche Media has the track record to get things done right. Keep locked on our journal as we continue to deliver what we hope is valuable digital marketing content. See you next time!